Details

Published on Thursday, 25 August 2016 16:08
Science Centre World Summit (SCWS) - Call for Proposals
The Science Centre World Summit (SCWS) is a global meeting of professionals of science centres/museums and their networks from around the world, convened once every three years. The second Summit will be held in Japan, representing countries in the Asia and Pacific region, at Miraikan in 2017.
Global issues have arisen that concern us all. Governments, industry, international institutions, research/education communities, all recognise the importance of public engagement in scientific and technological development. The collaborations amongst all stakeholders are crucial for humans' welfare and prosperity.
The SCWS offers an opportunity for science centres/museums to discuss their strategies for their new roles in society. At this Summit, representatives of participating science centres/museums will have discussions with scientists and educators as well as other stakeholders in society, including policymakers, industry and citizens communities, and build varied partnerships to create new approaches to global issues followed by concrete actions.
Term:             
2017, Nov 15-17 (CEO Forum on 14th)
Venue:          National Museum of Emerging Science and Innovation (Miraikan)
Theme:         Connecting the World for a Sustainable Future
Topics:          Day 1:  Global Sustainability
           Day 2:  Co-design for Transformation
        Day 3:  Personal Engagement with Science
Expected participants:   50 countries/500people
Language:   English
Website:       scws2017.org/
The call for Parallel session and poster session proposals is now open.
Deadline:     9 Oct 2016
Language:   English
Details and Apply:    scws2017.org/call-for-proposal/
Contact for Inquiries:
National Museum of Emerging Science and Innovation (Miraikan) (Tu, Maeda, Chihana)
TEL:          03-3570-9207
EMAIL:     This email address is being protected from spambots. You need JavaScript enabled to view it.
Details

Published on Tuesday, 16 August 2016 10:02
Make 10 Nov a Science Centre Alumni Day 
How have you been touched by your Science Centre? Has your experience with your Science Museum changed the way you think, helped you in your career, taught you something about the world around you or inspired you to go on some quest elsewhere? You may be a visitor, participant, volunteer or staff member, so the answers to these questions will vary greatly, but anyone exposed to a Science Centre or Museum is likely to be affected somehow.
UNESCO, ICOM and the Science Centre networks have declared 10 November the International Science Centre & Science Museum Day (ISCSMD). On that day, science centres and science museums are encouraged to organise activities based on one or more of the 17 Sustainable Development Goals (SDGs) declared by the United Nations (UN). 
One of the aims of ISCSMD is to demonstrate the impact science centres and museums have in engaging people with the science and technology related issues that affect them individually, their society and the wider world. Probably the best way to demonstrate that impact is to feature those very people and invite them to share their stories.
ASPAC is therefore encouraging its members to mark ISCSMD with an Alumni Day, organising events for their alumni and collecting their stories in the process. These "alumni" may be former staff – our institutions' greatest impact is probably on our own people – or volunteer guides, co-organisers of events and programmes, members, event participants or visitors… anyone the centre/museum touched and left an impression with.
Following the ISDSMD's theme, the Alumni Day events can be related to one or more of the UN's SDGs. Demonstrating impact specifically in those areas will be ideal, but even if that is not made explicit, many testimonials we will collect from our alumni are likely to be linked to some of these broad goals somehow. Science Centres are generally expected to offer some contributions to Quality Education, Innovation and Infrastructure, Good Health, Good Jobs and Economic Growth, Responsible Consumption, Climate Action and more. We may assume that we do have some impact in those areas, but backing that up with real, personal accounts by people telling their own stories will be very useful to convince any doubters out there.
The Alumni Day should not only be about collecting evidence of our Science Centres' impact, though. It should also be about appreciating the alumni's contributions to our institutions, their impact on us. Let the Science Centre/Museum Alumni Day be a celebration of Science Centres and Museums, the people in and around them, and the multitude of ways in which they connect.
Details

Published on Wednesday, 16 March 2016 16:51
Pi Day Celebrations 2016
14 March was Pi Day - since some people write that date as 3.14 - and a number of our Members took that occasion again to celebrate that fascinating number as well as Albert Einstein's birthday, which happens to fall on the same day.
Some of Petrosains' many activities involved cookies:
  
Seems like everyone is getting the hands-on experience! How are the cookies going to turn out? @ASPAC2012 #piday pic.twitter.com/UHoOl3WF75

— Petrosains (@petrosains) March 14, 2016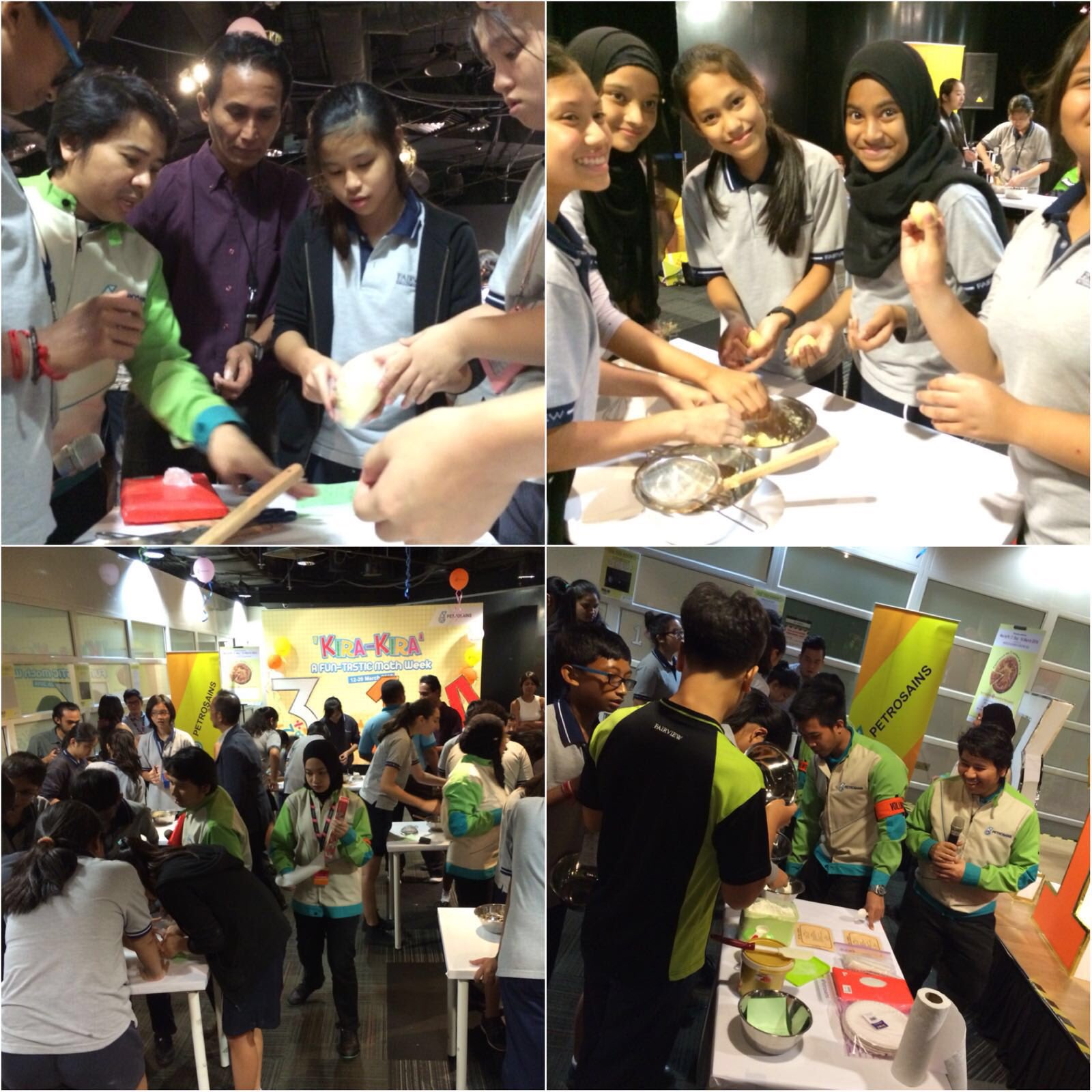 The Mind Museum had a Pi-ku competition: 
  
How do you celebrate Pi-Day? Here at the museum, we write a Pi-ku. Tweet yours and tag #PiDay #TheMindMuseum. pic.twitter.com/s6YsKSQlG2

— themindmuseum (@themindmuseum) March 14, 2016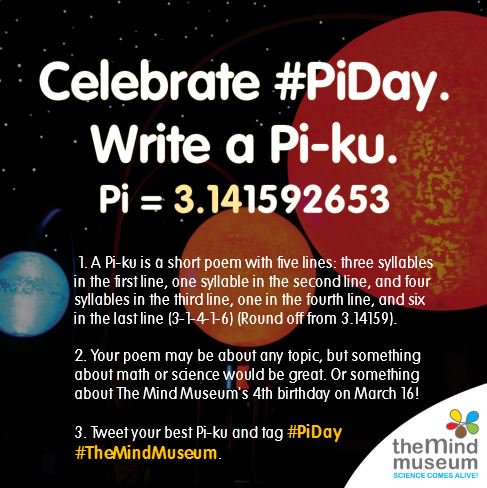 And the Science Centre Singapore had a Pi March and much more: 
  
Hope you had a happy Pi Day too!